Triple S May Be
2003 Chestnut Mare, 15 hands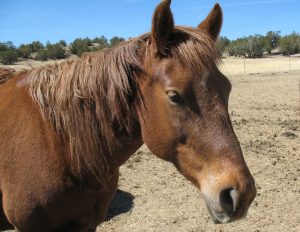 May Be (Triple S Gold Dust Correll x Triple S May Spar) came from Triple S Morgans in northwest Nebraska. We have considered ourselves blessed with each Triple S horse we have bought, and May Be is no exception.
She is 15 hands, chestnut, with slight roaning throughout and flaxen mane. This girl has it all: calm, confident and athletic; great bone and long hip; and extremely deep in the chest. On top of all that, she is one of the most loving horses you will ever come across.
100% foundation morgan bloodlines.